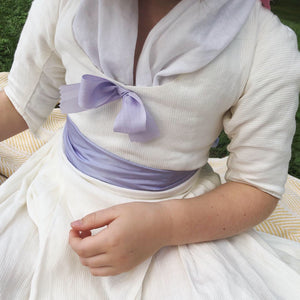 These gowns are appropriate for the second half of the 18th century. Whether the young lady in question is an ardent patriot reenactor in need of a historical reproduction gown, or a colonial enthusiast wishing for a costume to wear to a historic site, these gowns are a great choice!

Fabric: Stock is constantly changing! After checkout, you will be contacted with photos of the current available fabrics. If you have a specific fabric you may have it sent here or it may be especially ordered.

Stitching: Gowns can be made by machine, by hand, or a combination of the two. Hand-finished gowns are constructed using modern techniques with a period correct exterior, while entirely hand stitched gowns are made using 18th century techniques throughout.

Back Closure: Machine stitched gowns close with ties as seen in one of the above pictures. Hand finished and hand sewn gowns may close with either hand-bound lacing holes or cotton ties. Please note your preference at checkout.

Boning: Reed bones at the back closure area help facilitate the 18th century silhouette. These may be replaced with plastic or steel upon request for an additional cost.

Lining: Unless you have a specific idea for lining fabric, whatever appropriate fabric is on hand will be used. Sometimes this will be an unbleached linen, sometimes it is a gorgeous reproduction cotton!

Piecing: In the 18th century, fabric was an expensive resource for many people and therefore it was used with as little waste as possible. In trying to follow the same principles, these gowns may have "pieced" sections. This is essentially just sewing two or more pieces of fabric together to make a larger section. It is not usually noticeable, but even if it is...just say "piecing is period!"

Petticoat: This style of gown hangs open at the back of the skirt and therefore a petticoat should be worn underneath. As shown in the pictures, unless the gown is getting a bit small for the child, the open skirt is not noticeable. If you prefer, this area can be stitched closed.

Don't forget the shift!